Make search engine marketing work for your business
Successful search engine marketing is now, more than ever, a vital part of any website business strategy. Many companies are now realising the opportunities that come from achieving high search engine rankings, so that spend on website optimisation and pay-per-click advertising continues to grow at a rapid rate.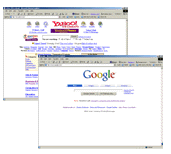 The increasing number of websites competing for top rankings also means that it is becoming even harder for your business to get noticed on the web. However, the Web Search Workshop UK can help you make the most of your website investment.
As search engine optimisation and marketing specialists, we can help your website to achieve high search engine rankings on Google and other search engines to attract targeted, relevant traffic from your potential customers on the web. In doing so, your site will discover one of the most cost-effective ways to generate new business, either online and offline.
Contact  Web Search Workshop UK and we'll tell it to you straight! With our experience of optimising hundreds of business websites, we take pride in offering a personal and professional marketing service to all our customers. We implement tailored search engine optimisation and marketing techniques that won't fall foul of the search engines and will give you long-term success in growing your online business.
We can also support your search engine marketing through the use of pay-per-click advertising, which will display your website link within the sponsored results on all the main search engines. Both techniques offer distinct advantages and can be developed to generate the best return on investment for your marketing spend.
What our clients say…
"We were very impressed by your professionalism and dedication. You've done an excellent job helping to create our site and optimising it for the search engines, giving us a high profile on the web for our target market."
Read more here…
What our clients say…
"I really appreciate what you are doing for us – I chose you over the (frankly thousands!) of competitors who were bugging us, because you seemed so much more professional and seemed to care so much more….you're really living up to my hopes. Thanks."
Read more here…
Whether you're planning a new website, or simply want to generate more visits to your existing site, we can help to you achieve top search engine rankings on the most popular search tools.
On this website you can find out why planning for search engine marketing can be so important for your business and what solutions you may need.
To find out more about how your website should 'start waving, not drowning', please contact us for more information or request a FREE website assessment. We look forward to hearing from you soon.